Submit Your Historical Photos to Us
The Board of Freeholders and the Somerset County Library System are collaborating to offer a "My Somerset County" online scrapbook that will help populate a digital history project planned by the library system. "We invite residents and nonresidents to share memorable experiences of Somerset County landmarks, historic sites, recreation facilities, festivals and more via photographs and comments," said Freeholder Director Peter S. Palmer. "These cultural artifacts will provide a glimpse into the past and in some cases will provide personal recollections about historic sites or events."
"This scrapbook will be an enduring endeavor that will act as an 'insider's look' into our county's many treasures. We hope that it will span many decades to come and will add to our understanding of our heritage and identity."
*The photos should all be in a .jpg. format and comments should be 500 words or less and should relate to the photo submitted.
*To schedule an appointment, please complete the form below. In the message please give us a few dates and times that you are avaiable and we will make sure someone is here to scan the photos.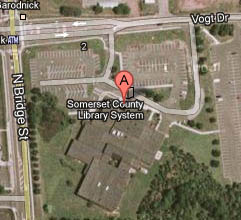 View Larger Map
Questions on Submitting Content
Rich Loomis
908-526-4016 ext. 171
Click to Email
Mail Photos To:
My Somerset County
Somerset County Library System
Attn: Rich Loomis
1 Vogt Dr
P.O. Box 6700
Bridgewater, NJ 08807


Drop-off Locations:
Any of the Somerset County Library System Branches:
Click Here
We will return all photos! If you mail photos to us, please include a return address. If you drop them off, leave your contact information so we can return by mail or you can pick up your photos at a later date. Please print your comments for easy reading.